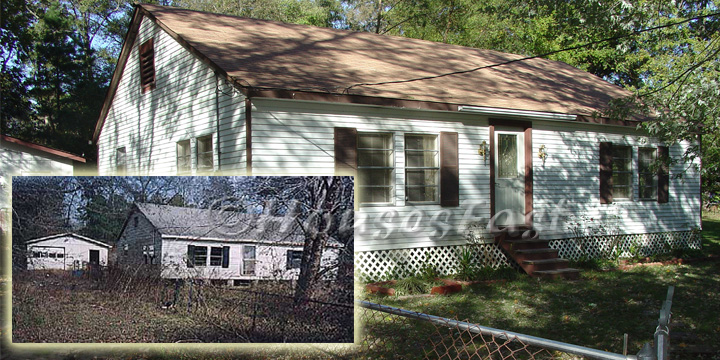 The planning – decide whether you can see it through
Are you asking yourself, "If all these other guys are making money rehabbing houses to resell, why can't I do the same thing with my own house?" Well, maybe you can, but do you have what it takes? Let's discuss what is involved in really getting into rehabbing a home and whether, or not you have what it takes, a lot of time, money and knowledge. Some of the foremost problems that arise are; the time involved in such a large undertaking; the money required for labor and unforeseen costs; the knowledge, how to work with contractors, getting the work done affordably, making sure you don't get stuck with your job unfinished.
Finding the money, getting estimates and the high costs.
Often people who live in a pretty old house already have some equity built up in it, but getting a loan to do the repairs is not always easy. If you can get the property into it's "repaired value" state, you will find there is a considerable amount of equity there.
I talk about equity, because equity is money. When you have money, then you shouldn't have a problem fixing your home. One problem is that banks sometimes don't want to loan on a house that is in disrepair. If you, or someone is presently living there, then it may be easier to get an equity loan on the home, in the form of a second mortgage. This money can then be used for the repairs to the property. In the event that you are not able to get a second, or third, on the home, there are other options to consider.
Finding and working with contractors.
There are contractors who may work out a payment plan and take out a second lien on your home for these repairs. Of course, the most important thing in choosing a contractor is finding a reputable contractor, who can do the job affordably. When I say "reputable" I don't mean expensive, or necessarily a brand name company, I mean a contractor who you've done some serious due diligence research on. You should never hire a contractor that you have not done thorough checks on.
Some of the things you can check out on any potential contractors are:
How long have they been in business and is there proof of it, such as on the BBB?
What references do they have and have you call to verify the references?
Do the phone numbers of those references match with the addresses and names of the owners when you look them up online at whitepages.com, or a similar service?
Ask your friends, relatives, neighbors if they have references.
Look up the contractors own name and company name on the BBB.com and other consumer sites to make sure there are no outstanding complaints.
Do some general searches on the Internet for the company and, or name of the owner online, look for complaints, red flags, etc.
Do they have insurance, workers comp, who would pay for a serious work injury that occurred on your property, etc?
What does the contract look like that they've presented to you?
NEVER hire contractors without an ACCEPTABLE CONTRACT and include a time limit, with late fees per day uncompleted.
Your contract should list all work to be done, in as much detail as possible. You may also list things you do not want them to do, touch, or damage.
Do not accept their contract without reading it in detail, cross out and change anything unacceptable and write your own terms in there. If they don't like it, find someone else.
So, once you've found a contractor you know you can trust. Discuss payment plans and options.
If they agree to a payment plan with a second lien on the house, look over the documents thoroughly and make sure it is very clear about the terms for release of lien.
Of course it is very important that when all payments are completed, the contractor provides and files, a notarized Release Of Lien document, to clear the lien that was placed on the property for payments.
The Knowledge, using other people's knowledge.
So, where do you start? What needs to be fixed? What will a home buyer be looking for and what kind of things will their inspector point out to them that are wrong with the property? Answer: Use other people's knowledge.
An Inspector:
Hiring an inspector to do a professional inspection on your property is a good way to find out what kind of things inspectors will be looking for. When you go to sell your house, chances are the buyers will hire their own inspector and give them a detailed report of everything that's wrong with the property. By doing your own report first, you know what to look for and fix those things. If your house is in serious disrepair, then you may want to skip the "inspector stage" and go straight to getting contractors estimates. Then once the house is looking closer to it's resell condition, you can go ahead and get the inspection done to find out what all the unfinished details are.
Not every inspector is right for you. If you know your house has structural problems for example, then you'll want to get an inspector who is also an engineer. Otherwise when he makes his report, it'll just give you recommendations to have an engineer inspect the property, then you're off to another report and paying all over again. You'll also want to find out how long the inspector has been in business and how experienced he is. There are some excellent inspectors that are frequently used by investors, these inspectors can often tell you a lot more about the rehab process than your average inspector. You could search online for your local "real estate investor club location, state" then find out from then who are their commonly used inspectors.
Realtors:
Realtors can be an excellent source of information, some Realtors may be able to give you advice on what a buyer is looking for in a house, what kind of repairs need to be made and who can make them. They'll often be able to refer you to contractors, inspectors, that are experienced and may be helpful to you. Realtors will also be the people you call to find out what the ARV (After Repair Value) will be on your property, so you'll know what kind of budget you have to work with to make your project profitable.
Investors:
If you can find a helpful investor who can give you advice about your rehab, that would be a good idea. You might tell them, "Look, I'd like to give myself a chance at rehabbing this property first, what kind of advice can you give me about it. My friends, or neighbors are also considering selling their houses, I could probably get you some referrals on houses to buy if you have time to share your ideas with me." If they don't have time to give you their ideas about the house, they almost certainly know other investors, inspectors, or contractors that they could refer you to.
In Conclusion:
There are many professionals that you can find and approach in helping you to get the knowledge you need to rehab and sell your house yourself. There is also a wealth of knowledge that you can find in books, "investor courses about rehabbing" and on the Internet that can assist you. Another good place to learn more about rehabbing and investors, is online bulletin boards, also known BB's and Forum's. There are many investor type forums on the Internet, where you'll find investors that will answer questions related to these topics. You'll probably find that your local real estate investment club also has a bulletin board that may be used.
Getting permits, the place to start.
One thing to be sure of before construction is started, is to make sure that your builders are pulling the proper permits for all of the work that needs to be done. There is sometimes a general permit that needs to be pulled and then under that, electrical, plumbing, HVAC, structural, etc. In some cities the enforcement and restrictions on what kind of permits you will need are very strict, while in other cities they are practically non-existent. If you are doing your rehab with the thought of selling your home, then it is a good idea to get permits for all the work to be done, whether or not building permits are enforced in your area.
Making estimates and choosing the materials.
Along with choosing contractors for your home rehabilitation project, goes choosing the materials and getting estimates for the work to be done. One of the reasons investors can successfully rehab and sell a home for profit, is that they are able to get the contracting and rehab done at typically lower than market prices. This does require a considerable amount of searching to find suitable contractors and affordable building materials. Now your contractors may have a good idea about what building materials are available and what the costs are, but it will be up to you to make the final choices.
A common mistake made by home owners who are fixing up their house to sell, is to over improve the home and then they must over price the home to cover their expenses. Before starting you should have looked carefully at the ARV (After Repair Value) of the property, given to you by a Realtor and make that your target in repairing your home. Something not realized by many homeowners is that the appraised value of your home is decided more by external factors and prices in your neighborhood, rather than the internal factors of the home. As long as the home is repaired at least up to the standard of other homes that will be compared against for an appraisal, then repair expenses that go over this may in fact be a loss. This is not to say that your home should not look clean, fresh and be fully repaired. If however, you are putting in marble floors, custom wood work and every other home in the neighborhood has carpet and linoleum, the net effect will be that you will receive no more money for your marble floors than they are for the linoleum.
In conclusion, your home needs to be repaired up to a good clean and acceptable standard, but you should not overspend with the idea of building a complete custom design home, when all of the comparables are simple spec homes. A good goal would be to make your house look just a little better than the best 3 houses on the street of similar size and age. Your home should stand out just a little above the others and have some special features and or, simple decorations that the other homes do not. Something that will capture your buyers and make they say, "Wow!"
Structural and plumbing.
At this stage you already have a signed contract with your contractors, you've researched and received referrals on them, you've also seen their insurance policy and verified it. The contractors have given you a time table for when the work will start and end. The time table has been written into the contract with a price reduction like $100 a day, each day past the scheduled deadline.
The contractors should be starting on any main structural work first. If there's leveling and foundation work to be done, this will be the first project to get started. Any demolition and digging work will start at this stage. It is very important that leveling work be done before most other projects in the house, otherwise you'll be going back and repairing damaged dry wall, cracks, holes and floors. You certainly do not want to start any tiling, plastering, or painting prior to the structural work being completed.
Once the foundation is level, you should have the plumbing system checked. If it didn't have leaks, or problems before, they may have developed after the foundation was moved. The plumbing would then be the next major project to work on. Preferably the same contractor who did your foundation is also doing the plumbing and is a licensed plumber to pull permits for it. They may be able to use the holes where the foundation was leveled, to tunnel and replace, or repair plumbing before filling them. It is important for all required city inspections to be completed on the foundation and plumbing before any dirt is replaced and concrete poured. Before anything is filled in, you should also go around the house and check the level yourself to see if it meets your expectations. If adjustments need to be made, this will be your last chance to have it done.